4SIGHT Connect
Digital Gate
Dock Scheduling & Gate Management Software
---
Ask any operations manager where their biggest bottle necks occur and chances are, they'll say it's somewhere between when a truck pulls up to the gate and when it exits the facility. That's a lot of bottleneck. Fortunately, 4SIGHT Connect – Digital Gate has a solution for every touchpoint – even before a driver pulls up to the gate.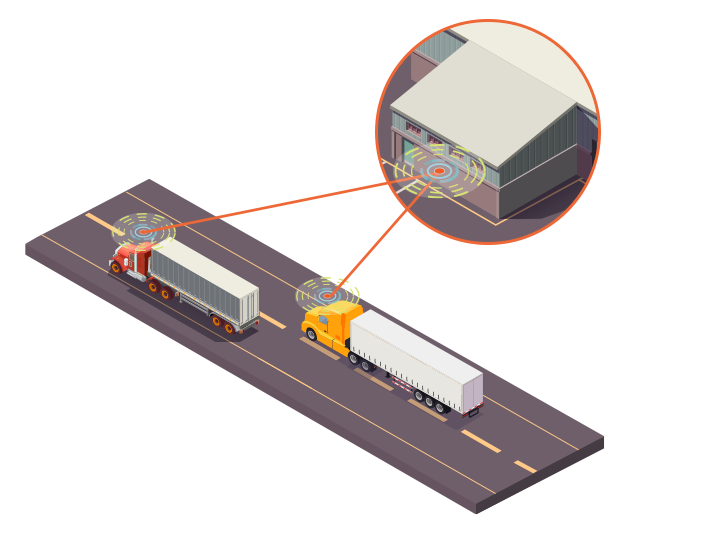 Schedule Shipments and Make Timely Decisions
Using Digital Gate's scheduling feature, you control your dock availability, giving you more time to move personnel to the right place at the right time.
Easily send your carriers a scheduling email with desired delivery time and any special instructions like where drivers should check in upon arrival.
Driver arrives without an appointment? No problem. Quickly check dock availability and manually assign an open position directly from the Digital Gate dashboard.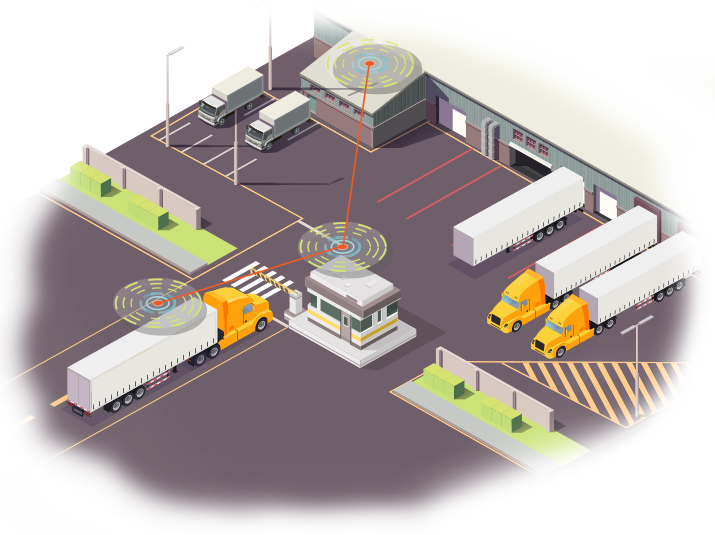 Instantly Know When a Driver Arrives
With Digital Gate managing your arrivals and departures, drivers enter appointment numbers and required information on the Driver Control tablet or Kiosk. Your back office receives an alert that the driver has checked in, and Digital Gate routes a driver to a dock location by sending instructions via a text message.
If a driver arrives without an appointment, Digital Gate gives you the option to assign a dock for them immediately.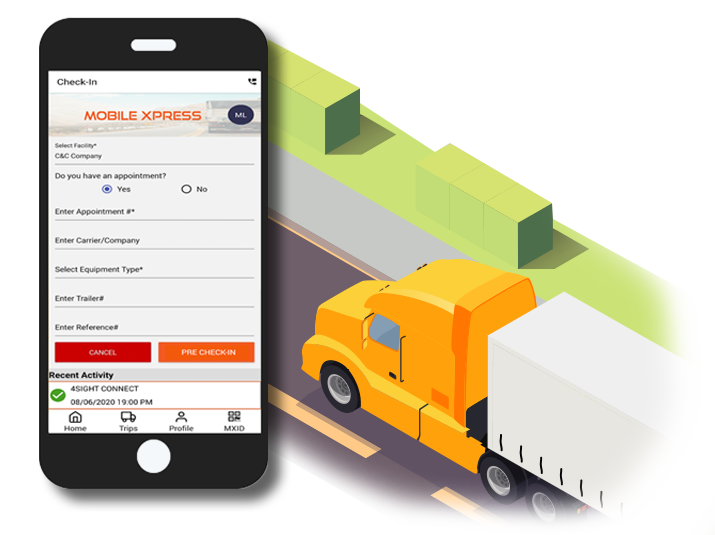 Pre Check-In for ETA and Faster Processing
With the Mobile Xpress feature available in the 4SIGHT Connect Hub mobile app, drivers can pre check-in from anywhere along their route, even if they're still miles – or states – away. A unique QR code is generated after entering the required information through the mobile app (available in the Google and Apple app stores). The facility is alerted the driver is on the way to plan their load/unload activities.
To expedite check-in at the Driver Control tablet or Kiosk at the facility, the driver simply scans the QR code to receive a text message with instructions for where to proceed, saving time and hassle.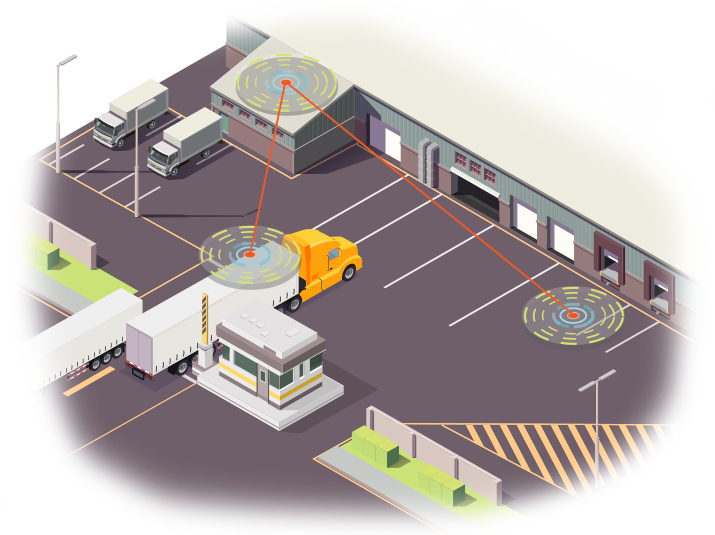 No Touch Access Check-In for Increased Health Protocols
Digital Gate can be enabled with a No Touch Access option, virtually eliminating contact between drivers and personnel, for facilities that either choose or by mandate are required to limit person-to-person contact as much as possible.
With "No Touch Access" enabled, drivers still pre check-in using the Mobile Xpress feature in the 4SIGHT Connect Hub mobile app, but never leave their vehicle to check-in/check-out*. When an appointment enabled with No Touch Access enters a pre-determined radius from your facility, the driver is automatically notified to check-in. After completion, the driver is sent a push notification on where to go at the facility, and Digital Gate alerts your back office of the arrival.
*Facility policies may still require in-person hand-off of BOL or other physical documents.
Your Digital Gate Dashboard
Dashboard & Shipments
Real Time Alerts
Reports
Dashboard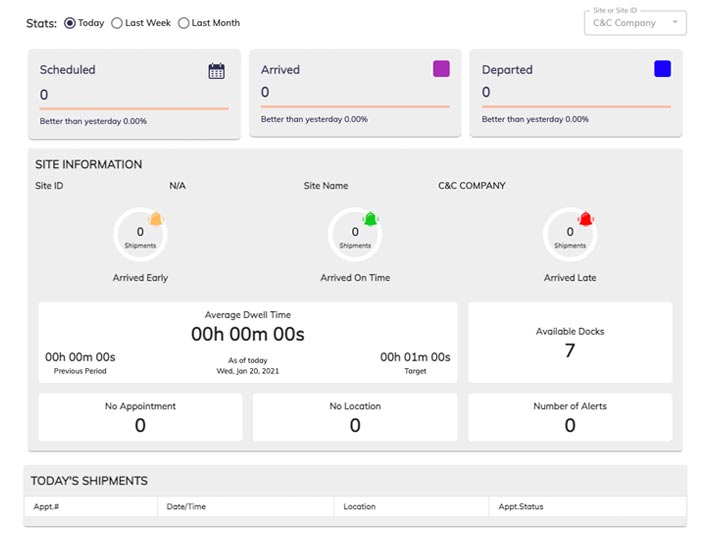 Dock Scheduling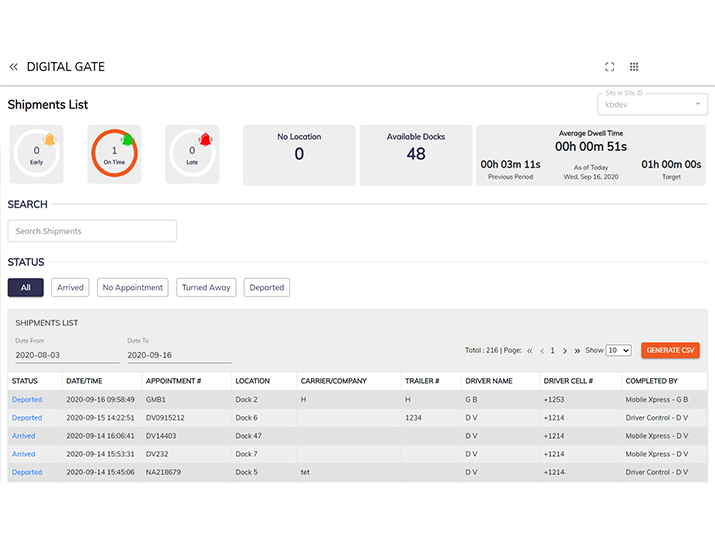 Manage Shipments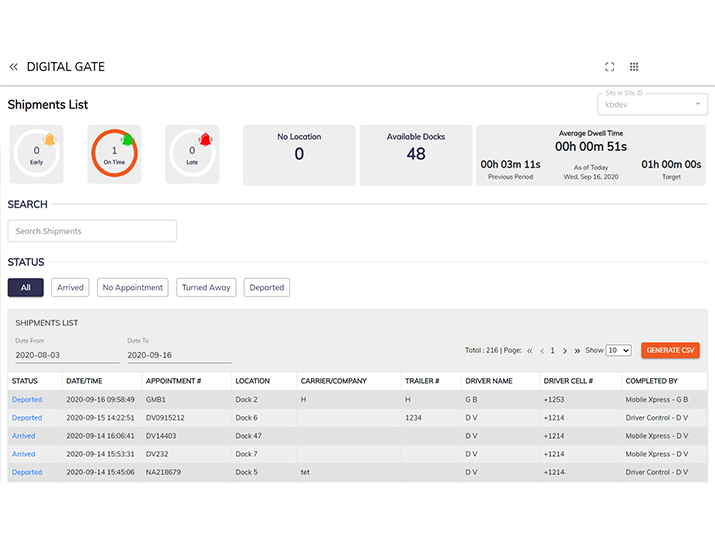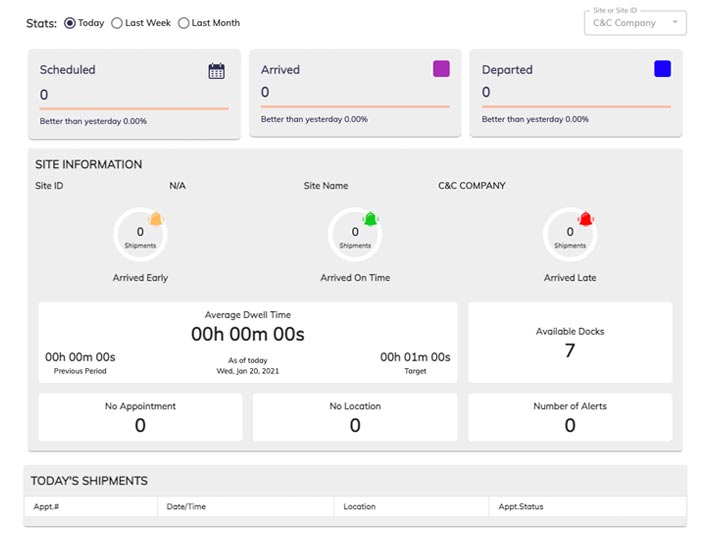 Dashboard
Your Digital Gate dashboard gives you visibility, and clear insight into shipments' performance at every Digital Gate enabled facility.
See at a glance in real-time:
Number of on-time, early and late appointments
Number of arrivals without an appointment
Average dwell time including historical comparison over previous periods
Occupied and unoccupied dock positions
Scheduled, arrived, and departed deliveries, including historical comparison over previous periods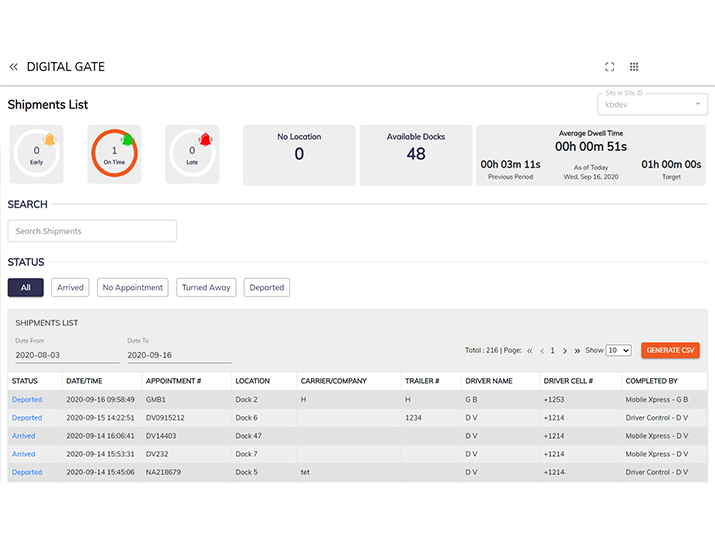 Dock Scheduling
Proactively schedule docks for loading/unloading activities. Send real-time carrier notifications to provide updates as appointments and shipment activities occur. Provides an overall view to see what appointments are scheduled today, when they arrive, and available docks to route truck drivers for expedited service.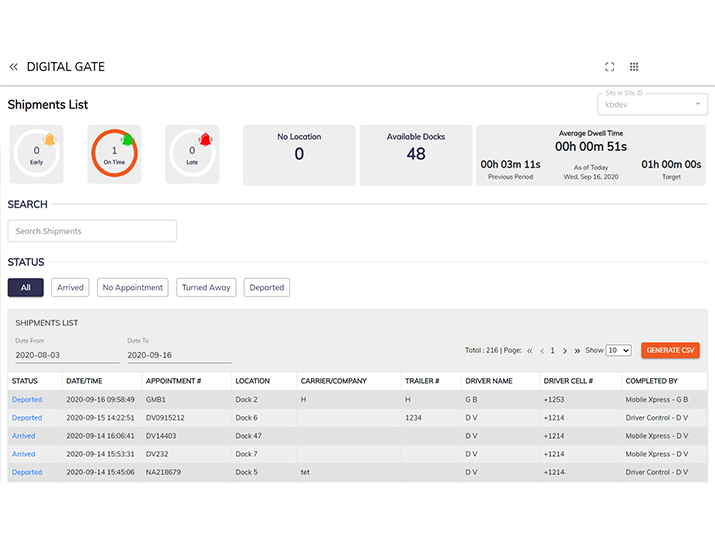 Manage Shipments
Utilize the Digital Gate shipments list to manage arrived shipments. Once a driver arrives at a facility, the shipments list is your real-time tool to update shipment information and communicate directly with the driver and provide instruction. If the driver arrives late or early, you can turn the driver away to minimize yard capacity and extended dwell time at the facility through the shipments list.
Monitor & Assess Every Delivery
Custom Alerts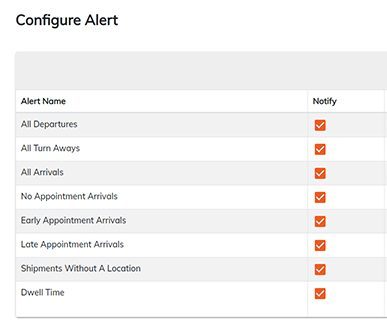 Performance KPIs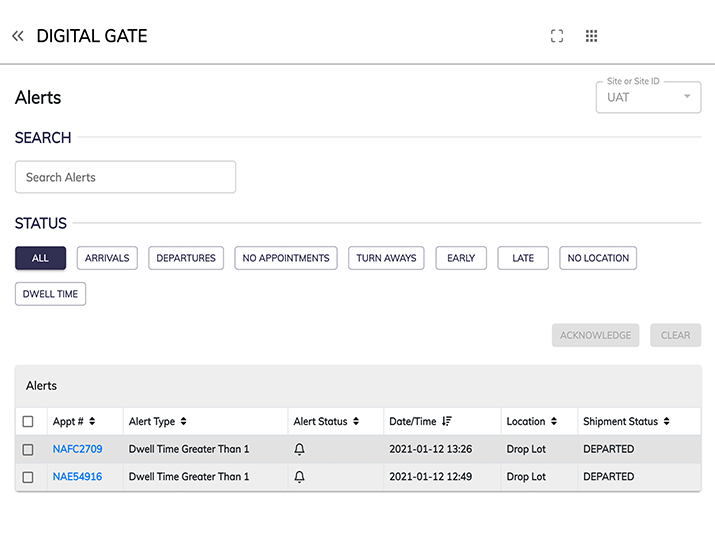 No Appointment Alerts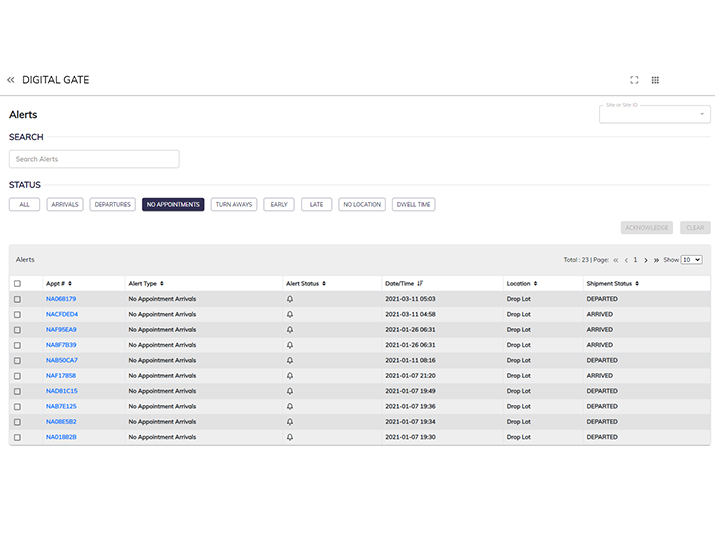 Monitor & Assess Every Delivery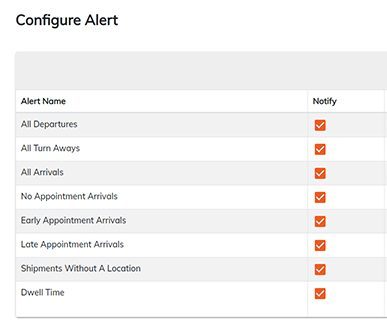 Custom Alerts
By setting custom alerts, you can receive instant updates during every step of the shipment management process, including:
Arrivals
Departures
Turn Aways
No Appointment Arrivals
Earl Arrivals
Late Arrivals
Shipments not assigned a location
Shipments passed the Dwell Time metric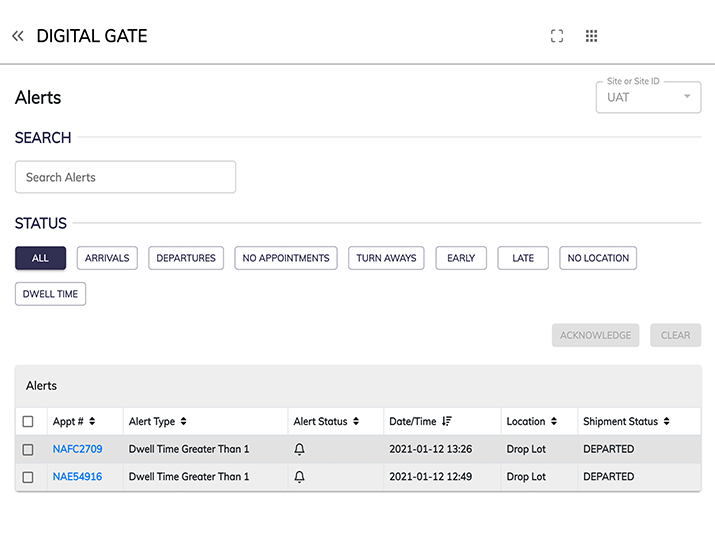 Performance KPIs
Set a dwell time metric to state how long shipments can be at a facility. Once a shipment is outside the set threshold, leadership and personal are alerted.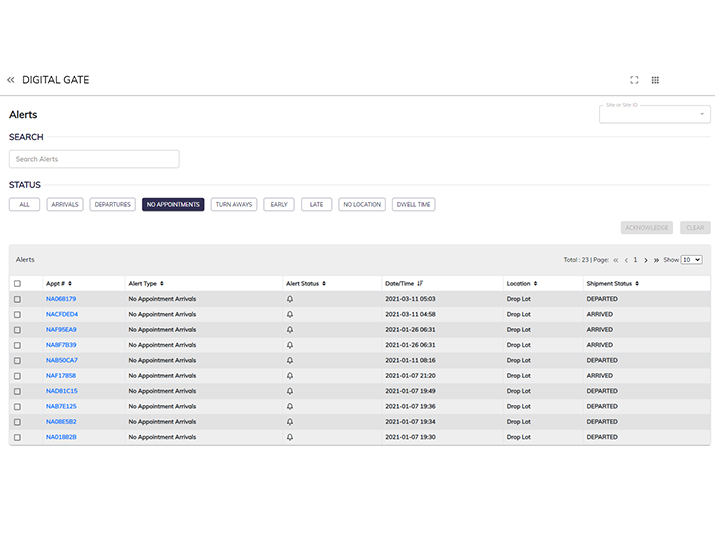 No Appointment Alerts
When a driver arrives without an appointment, the facility can receive an alert and take action. The notification provides immediate visibility on unexpected shipments to allow facilities to make quick decisions for operational efficiency.
Generate & Schedule Reports
Reports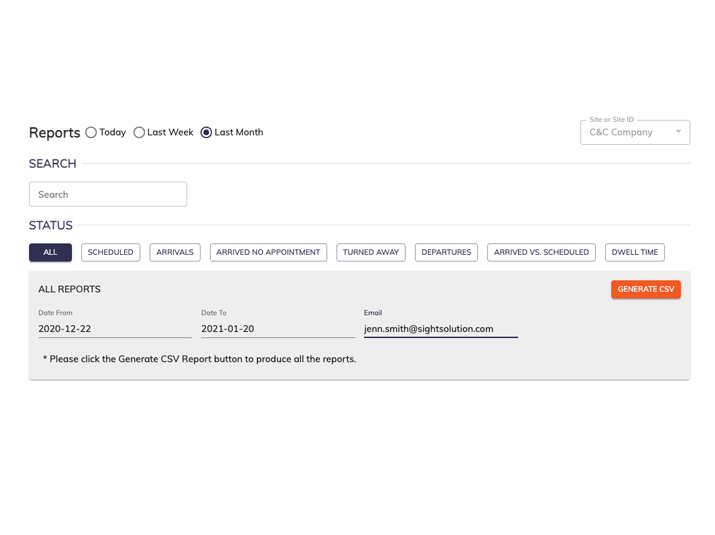 Schedule Reports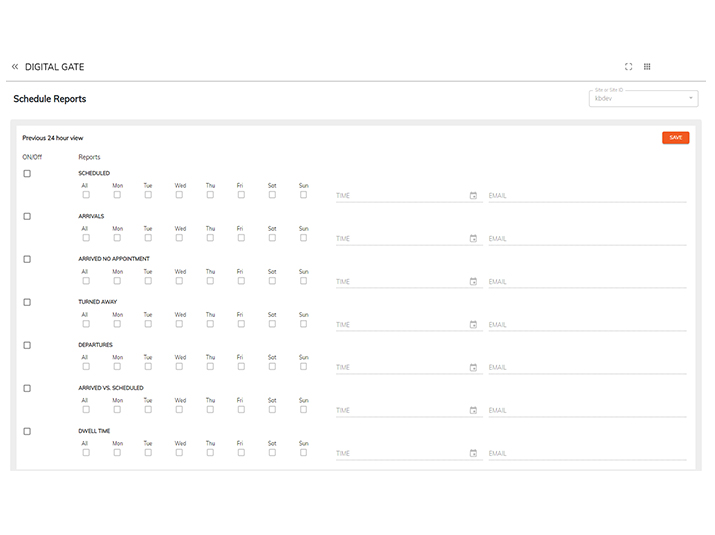 Generate & Schedule Reports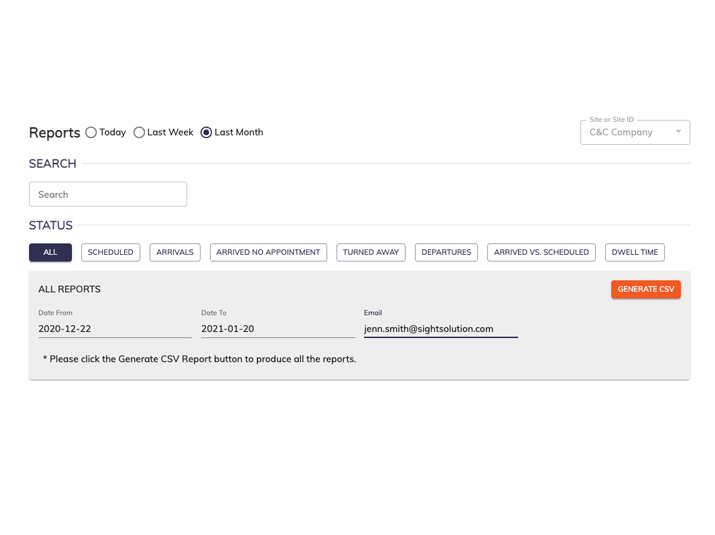 Reports
View comparative performance across days, weeks and months on your dashboard or export historical data in .csv format. Easily create schedules to automatically email any report you choose, on a single day or multiple times per week. You determine the recipient(s) for each report, keeping inbox clutter down and ensuring your team is getting just the information most relevant to them.
Available reports include:
Arrivals
Arrived, No Appointment
Arrived vs Scheduled
Departures
Dwell Time
Scheduled Deliveries
Turned Away Deliveries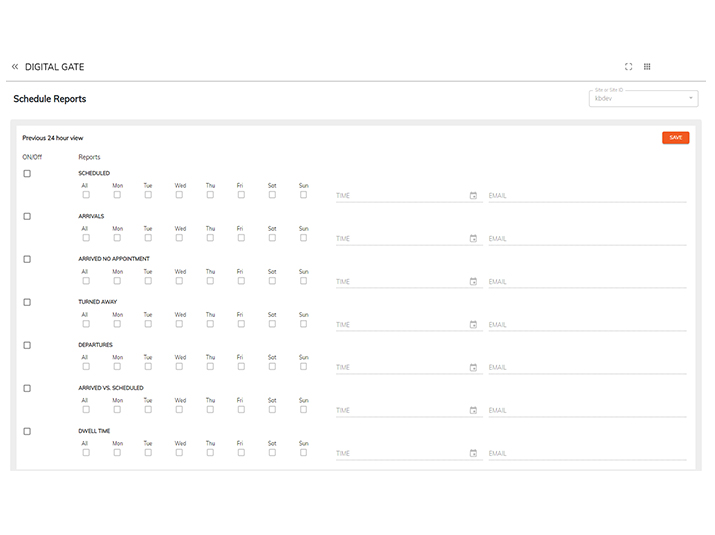 Schedule Reports
Receive a previous 24-hour report on how your facility performed through the schedule reports module. Customize the delivery time, recipients, and reports you want to schedule. Set and forget, and receive your report in your email box.
FEATURED VIDEO
4SIGHT Connect – Digital Gate
Watch this video to learn about the rich features and insightful data that make 4SIGHT Connect – Digital Gate the final word in digital gate management and dock scheduling. And be sure to download our Digital Gate brochure for even for more info and to share with colleagues.