[ARTICLE]


4SIGHT™ Connect Digital Gate: A Smart Gate Access Solution for Intelligent Dock Operations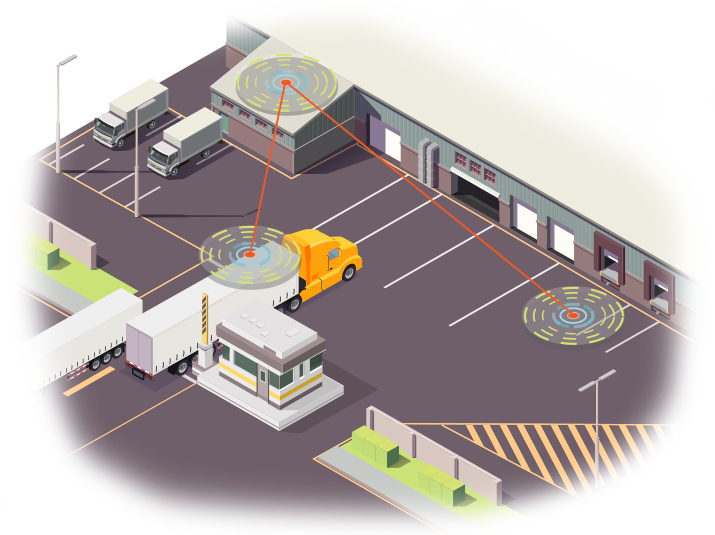 Now that you've been formally introduced to 4SIGHT Connect Digital Dock and learned about all that it has to offer to improve efficiency at every dock position, it's time to unveil the latest development from 4SIGHT Logistics Solution — 4SIGHT Connect Digital Gate.
Warehouse dock operations face several activity management challenges every day such as drivers arriving early, late, or without an appointment, docks becoming backed up as a result of poor scheduling, and even a lack of or breakdowns in direct driver communication.
It's all about scheduling
Even if you have a dock scheduling process for your dock operations, chances are it's conducted manually. For example, your process might involve several people to manage scheduling a shipment into your facility relying on Excel spreadsheets resulting in an archaic and disconnected process.
To further complicate matters, your shipping department may have its own scheduling process while receiving has its own version. That can lead to communication challenges that make it difficult to determine when a shipment actually arrived and where it should go, such as to a specific dock position or a designated holdover area.
Fortunately, there is a much better, more efficient way to consolidate the management of drivers arriving and departing your facility during the loading/unloading operations at your dock.
Robust gate access
The ideal gate access solution for truly intelligent dock operations at your facility, 4SIGHT Connect Digital Gate offers many capabilities, such as:
Proactively schedules docks for loading/unloading.
Sends drivers to the right location, based on availability, and upon arrival.
Monitors drivers' check-in/check-out status and captures metrics on how long drivers spend at facilities.
Provides authority to turn drivers away if needed.
Simplifies communication between drivers and facilities via text messaging and voice calls.
Ensures real-time carrier notifications.
Provides reports and documentation needed to refute any detention charges.
More specifically, via 4SIGHT Connect Digital Gate's software, your facility will be able to schedule appointments; provide self check-in/check-out for drivers with/without an appointment; view an interactive dashboard across all departments to track performance today, last week, and last month; manage arrived shipments with/without an appointment; view shipment status: scheduled, arrived, turned away, departed, and deleted; view arrived alert status: early, on time, or late; enable gate or no-touch access for check-in/check-out; configure custom real-time alerts, notifications, and KPI's as well as receive alerts and notifications and view performance KPI's.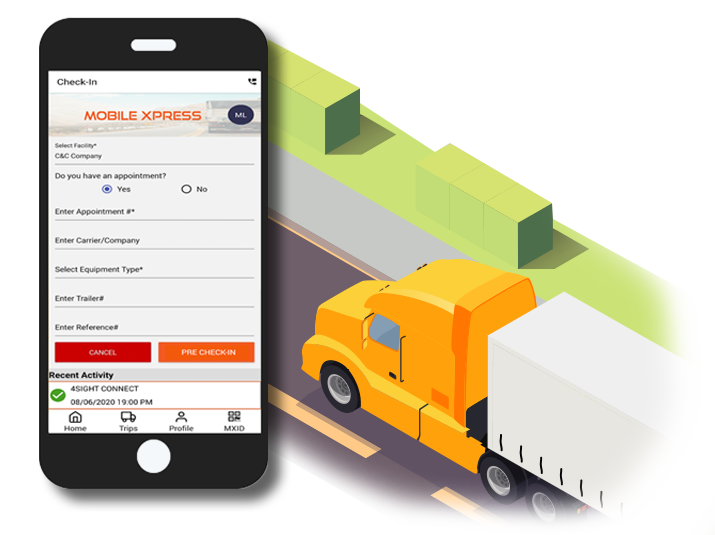 The product's 4SIGHT Connect Hub includes Mobile Xpress which allows drivers to pre-check into facilities expeditiously. This no-touch access process for drivers — especially helpful during times of elevated employee health safety concerns — also allows drivers to self check-in/check-out via their smart phone or other mobile device from the comfort and safety of their truck.
In addition, using 4SIGHT Connect Digital Gate's Driver Control software, facilities can easily manage check-in/check-out (both scheduled/nonscheduled shipments) in either English or Spanish, gather driver information for on-site communication, manage driver interaction with facilities via intercom, route drivers to the dock or other designated location, and facilitate gate access.
Capturing information while providing vital visibility
From small to large facilities, 4SIGHT Connect Digital Gate will help you solve a variety of scheduling problems for your dock operations. With the visibility you need when shipments arrive, you can immediately direct drivers to the proper destination facility.
In addition, by capturing critical KPI's and metrics  such as average dwell time, you'll be able to fully document the length of time drivers spend at your facility. This will help you refute any potential future disputes about detention charges. That will save your company a substantial amount of time and money over the long-run.
Other KPI's and metrics that you'll be able to capture include:
Scheduled appointments
Arrived/departed shipments
Early, on time and late shipments
Available docks
Arrived no appointments
No location
Active alerts
As you can see, 4SIGHT Connect Digital Gate provides a gate access solution that will fundamentally transform your entire dock operation, no matter how large or small.
Want to create a smarter facility that will result in increased operational efficiency at your dock? Contact 4SIGHT Logistics Solution today to learn more about 4SIGHT Connect Digital Gate.